For sale rare bimetallic silver / tantalum coin from Kazakhstan:
Kazakhstan 500 Tenge "1st space setallite of Earth" 2007 proof
BIMETALLIC: inner disk is made of Tantalum, external ring is made of Silver.
Total weight 41,4 gr. Fineness: 925 Silver, 14,6 gr. / Tantalum 38,61 gr.
Mintage 4000 pcs only !!!!!!!!!
PRICE ............ 140.00 USD
Other dealers and collectors sell this coin more expensiv.
Please compare:
http://global.ebay.com/gbh/viItem?ItemId=130212103277
Tantalum is a chemical element with the symbol Ta and atomic number 73. A rare, hard, blue-grey, lustrous, transition metal, tantalum is highly corrosion-resistant and occurs naturally in the mineral tantalite, always together with the chemical similar niobium. The chemical inertnes of tantalum made it a valuble substance for laboratory equipment and substitute for platinum, but its main use today is in tantalum capacitors.
If you interested in this coin please let me know.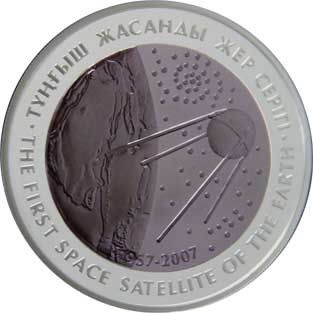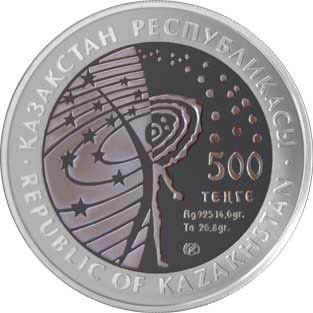 Edited by Bena - 18 Jan 2009 at 9:23pm